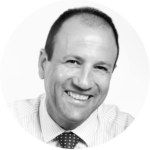 When it comes to retaining marketing clients there is a host of challenges that need to be addressed, the biggest of which is the client's ability to convert a lead.
The real issue is that any company that has not marketed before will have a false sense of their sales ability. If a business is predominantly referral based, they will have an artificially high conversion rate. Usually 70-90%. That's because all they're doing is taking the order… This is great, and a very compelling reason to get more referrals. Unfortunately referrals cannot be dialed up or down so do not provide a dependable way to scale your business.
As soon as we use paid marketing, we are moving into a highly competitive arena where only the fittest survive. If your clients don't have a sales process to follow, they can and will drown in the noise. Unfortunately for the marketing company, this is bad news because they will either… say the leads are crappy, or pause the campaign.
Building your marketing business requires a 2 pronged approach.
Finding and retaining high paying clients

Building a team that can deliver tangible results
In this Round Table Breakfast, we will be taking these challenges and discussing some of the best ways to build a resilient and systematic approach to growing your marketing business. We will also be covering the hidden traps of growing your marketing business and the best way to overcome them.